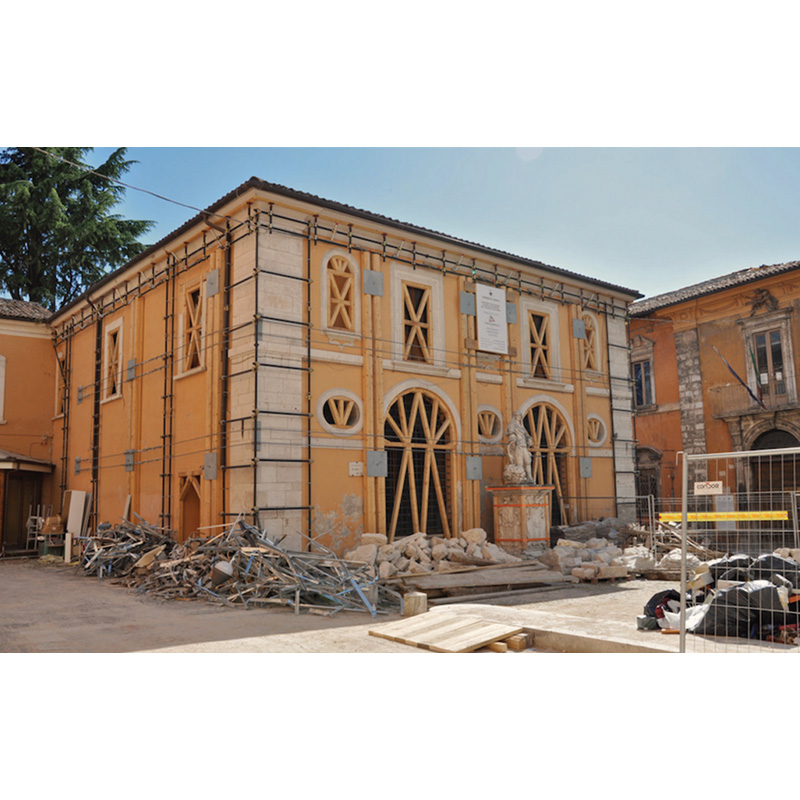 April 2009: a 5.8 richter earthquake shock caused many hundreds victims and damages to thousands buildings in the region. The whole medieval city of L'Aquila has been delcared unsafe and around 65,000 people were made homeless.
The Palazzetto dei Nobili (about 17th century) is located in the very heart of the old town; it was used as a municipal cultural center. The earthquake heavily damaged it, producing many cracks which break the unity of the walls and causing the fall of some of the vaulted roof. An interpretative by analogy drove us to identify the main problem and its "breacking mechanics" that is, in short, a rotation of one of the walls out of its plane involving a drag of parts of the orthogonal ones and thus the relative deplacements and their consequences.
Our aim was to restore the "right functionning" for the object, reintroducing the lost constraints and removing some concrete parts recently added which we belive to have the most of responsibility about the breaks that occurred.
piazza Santa Margherita 67100 L'Aquila (AQ)   –   Italy
client: Comune de l'Aquila, Dipartimento Nazionale della Protezione Civile
in collaboration with: Studio di Architettura Ridolfi